Sangam House is a writers' residency program just outside of Pondicherry in the southeast Indian state of Tamil Nadu. Up to seven writers at a time—from South Asia and the rest of the world—are invited to live together while they grind out their latest work—stories, poetry, scripts, and all those arrangements of words that don't fit neatly into any of these categories. Follow DW Gibson's reflections on his experiences here.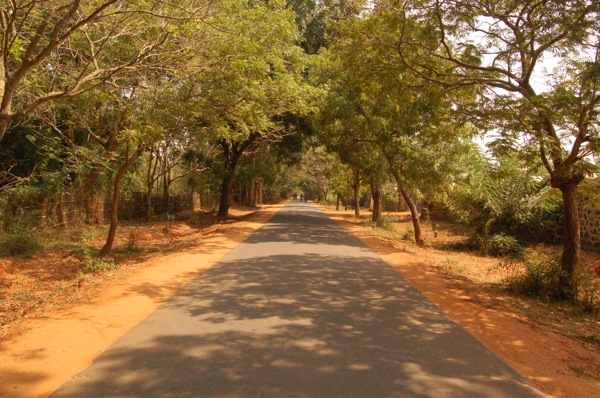 Everyone at Sangam House is heading home in a couple of days. After weeks of sharing space together we're returning to our own cities where we will each slip back under the spell of persistent virtual community with friends, colleagues and strangers. But on the eve of my departure, I can now say I am convinced that interaction in shared physical space has impactful advantages over virtual interaction for one reason and one reason only: I have met Sadanand Menon.
I just spent my last full day in Chennai. My friend Tishani Doshi lives in this city and was gracious enough to take me to visit Sadanand. Until I stood in his home, this man was an unfamiliar name over email, a name that never failed to intrigue, or tie up my Amerikan tongue. But that all changed the moment he and I occupied the same room.
Before Sadanand came down from his office to greet us, Tishani and I were sitting on a wood bench that hung by four chains from the ceiling and gently swayed with every small weight shift. The sway of that seat encapsulated the peaceful nature of the room in which we sat. As soon as Sadanand came down the stairs he made a straight line for me. He declared that I "must be the famous DW" and gave me a generous (and quite firm) handshake. It all happened so fast I didn't have time to stand up; I was stunned by his quickness and the immediacy of his warmth—the full energy he gave toward making eye contact, speaking directly to me, and cupping his hand around mine. He then moved on to greet Tishani who did manage to rise to her feet quickly enough for Sadanand to lift her slightly off the ground with a giant bear hug. In that moment I told myself: I think I'm going to get one of those hugs when I leave. My feet will probably stay on the ground and the force of the affection probably won't make me squeal; but still, I am going to get one of those hugs.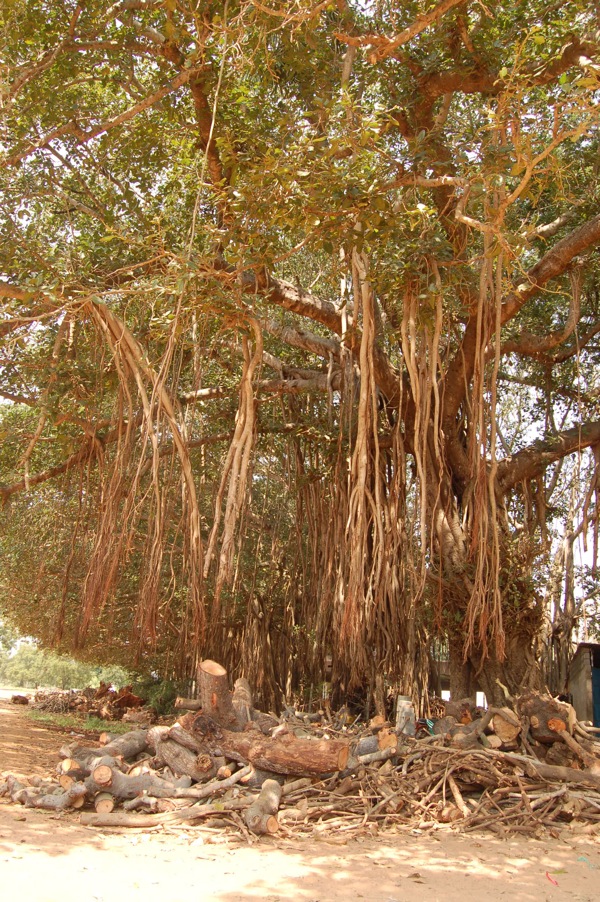 Don't get me wrong: Sadanand is by no means one big sentimental mush. In fact, it's quite clear after a few minutes of talking with him that he is a critically thinking man most every moment. The home he now occupies was once shared with Chandralekha, the well-known dancer and choreographer who passed away in 2006. Chandralekha originally purchased this beachfront property back in the 1960s and moved in during the early 80s when the area still felt like it was in the middle of nowhere. The place is on Elliots Beach Road, which is now one of the longest and busiest stretches of public shorelines in the country, and it feels like an integral part of the bustling city. Chandralekha spent many years developing her oeuvre of choreographed dances and building on her small plot of land. She wanted to make it a place where people gathered to express themselves and take in the expression of others. In addition to her home, she also put up offices and a performance area that is now simply and appropriately known as Spaces.
Sadanand oversees the estate left by Chandralekha. Artists of all expressions are welcomed to use Spaces for theater, readings, dances, concerts—any type of creative expression— and Sadanand does not ask for any rental fee (so long as those using the space don't charge their audience). He lets his personal warmth and openness extend to the property.
I wanted to meet Sadanand because I had been in contact with him for months about the possibility of Sangam House using Spaces for a public reading. It didn't work out this year but we still wanted to talk about it as a future possibility. Tishani, who is a writer and a dancer (she is one of two performers in Chandralekha's last choreographed piece), has known Sadanand for nearly ten years. She spent day after day, week after week at Spaces, rehearsing and socializing, but the dynamic of the conversation on my visit made me feel as though it had been the three of us sitting around, working together, thinking together for all those years. There was something immediately and completely inviting about the experience.
I felt as though we talked about everything. Sadanand detailed the archive they are building at Spaces, which will house all of Chandralekha's work from decades of choreographing and writing. We talked about recent plays and concerts and performances that had occupied Spaces. We talked about the downfall of Indian newspapers once they were put into corporate control. (In addition to being a collaborator of Chandralekha for decades, Sadanand was also an arts editor and critic for many years; he still teaches at the Asian College of Journalism in Chennai.) The silences in our conversation always felt active; each of us churning over what had just been said or going some other place the dialogue had taken us. It was obvious Sadanand still had traces of Marxism running through his veins: the only question I asked that he didn't really care for was about money and funding for Spaces. By the time he uncurled his grimace and finished shaking me off I realized it was really a dumb question. Don't let them tell you otherwise, it's true: there is such thing as a dumb question. Like bringing up money when there were many more engaging things to talk about.
As I sat in Sadanand's workspace and home and living history, I couldn't help but wonder how a similar introduction and experience would play out in New York City. Chennai is roughly the population of New York. They are both very crowded cities but in very different ways. In New York we tend to protect our coveted physical space with great vigilance, and opening up to strangers so freely—with small talk let alone recaps of artistic and revolutionary discourse over decades—is not the norm. We guard our creative circles; we keep them separated. In Chennai, on the other hand, the crowdedness seems to be a catalyst for hospitality: you're that close, you might as well cross the threshold.
My meeting with Sadanand convinced me that India has been an intense place to think about sharing physical space, mainly–I think–because my interactions here have been intensely hospitable. I have been introduced to various forms of community and a prevailing sense that I am welcomed has remained. I was most certainly welcomed by Sadanand who, as I departed, insisted on upgrading our handshake to one of those all-encompassing hugs. It wasn't sentimental or disingenuous. The hug, like our encounter, was authentic, generous, and most definitely not a possibility over email.