Daniel Nester is the kind of writer who looks at his book as an opportunity to be honest with you, and hopefully make you laugh. Which I did, while reading his latest book, How to Be Inappropriate, just out this past fall. The book is a collection of vignettes on impropriety, an account of Nestor's own life in its many amusing and awkward forms. He once dated a girl who liked her feet licked, for example. He wrote an investigative journalism piece on Enzentze, a male enhancement product. He isn't afraid to give you a detailed history of mooning.
Daniel has written two books on the rock band Queen, but originally began writing as a poet. He's edited for numerous literary journals and is published in many more, including the Best American Poetry 2003. He now lives in Albany and teaches at The College of St. Rose.
Daniel was nice enough to come down from Upstate New York and talk to me in New York City, where most of his stories in the book take place. He was unabashed in a likeable way, and was genuinely upset that I didn't receive a promotional whoopee cushion with my copy of the book. I told him it wasn't a big deal, but after reading his book I certainly felt a bit inspired to act out of order. Maybe the lack of a whoopee cushion was a good thing.
Emily Nonko: How's the book being received?
Daniel Nester: Pretty good, it's sort of odd and cool doing readings in the area, because I grew up in South Jersey and lived in Philadelphia. The last few readings I've had were more of a reunion than complete strangers coming. That's the way it is with a lot of readings, and it's good. I try to read something different every time to make it interesting for me, and if anybody is at the reading who I mentioned in the book, I read the passages they're mentioned in. Maybe that freaks them out.
EN: I think that would be fun!
DN: Yeah, I guess so. My old roommate in college came, and the main thing she asked was, Why did you change my name in the book? I just sort of do that, I guess.
EN: You're familiar with the poetry reading circuit, is this much different for you?
DN: Yeah, I think they're different in that I'm only reading straightforward prose, and with reading non-fiction and humor pieces, its much different. When I wrote poems, I always liked to be understood; I liked making that connection with people. So this all seems to make sense.
EN: When did you realize you didn't want to write poetry anymore? I feel like it's a pretty big leap from poetry into this book.
DN: I view it as one of the most liberating things ever. There is a tradition of switching teams from poetry to nonfiction—Phillip Lopate famously did that, and the switch just felt pretty natural. The first two books I wrote were prose-poems on every song by the rock band Queen. I guess those were hybrid pieces, so switching over was a gradual thing but I could see it coming.
EN: Do you think you might move on to writing fiction?
DN: No, I can't do that. I think it's incredible people can do that, but for me it's hard enough to write about my own life. I also fall into the side of the argument that it's a valid, noble thing to write about yourself. There's been a lot of backlash towards the memoir movement.
EN: I talked about that with [Adderal Diaries author] Stephen Elliott, and the complications that come with writing a memoir, and questions of truth. When we stick with the memoir label, as readers we want to believe everything is completely true. But I wonder if readers have the right to be angry when they find out not everything in a memoir is always necessarily true.
DN: Lionel Trilling has this idea of sincerity and authenticity, that sincerity is that I am the same way now that I am in that book. But often the case is, you only know me from what you read in the book. With realistic fiction and memoirs, people need to know that the author did go to Paris, France and research at the Louvre… they want to know what's happened to the author.
EN: Is it difficult for you to put yourself in the center of your writing, and use the people in your life as characters in your book?
DN: No, not really. In order to write honestly about the people who are close to you, you have to keep a check on yourself. The thing about the writing I do is that it is constantly self-questioning, self-depricating. That's one of the rules I go by, you must keep questioning yourself and make sure you're not depicting yourself out to be some kind of hero.
At a reading a few nights ago, I read a piece about an ex-girlfriend, and some of the players were there. I was happy with the way it turned out, because the break up you see in your own ways, but in order to write about it, you have to stand outside of the situation and look at yourself.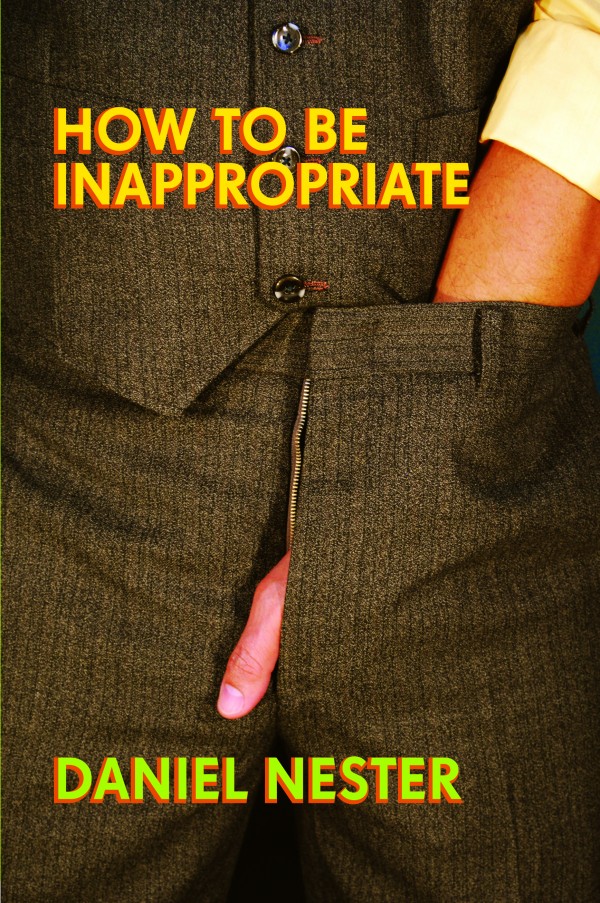 EN: Many of the stories in the book are from awhile ago.
DN: It's kind of an eleven year spread. It begins moving into New York in '94 and then moving out in 2005. There's also the random tanning piece [where Nestor chronicles his experiences with self-tanning], after I moved to Albany.
I didn't want to write about my childhood… I'm writing about that in another book. The focus of this one was the New York years.
EN: Why did you chose to write the book in short vignettes rather than a single narrative?
DN: Frankly I just think I'm not there yet to write a big, long story. I've done it twice, but those are Word Documents right now. I'm still learning, and it was easier for me to begin with small pieces, writing as your would a poetry collection. I'm not even sure if the 50,000 seamless manuscript is something I'd want to do.
EN: The book about your childhood, and the relationship with your father follows a similar format?
DN: Yeah, I really like the episodic memoirs that have come out recently. I really like Stephen Elliot's new book, Nick Flynn's memoir, and I'm thinking that's the way to do it. To write in small pieces and arrange it that way. So the project with my childhood will probably come out with shorter chapters, moving from place to place, and writing in different styles. Utterly unpublishable, in other words. We'll see what happens.
EN: I do tend to prefer the vignette style, when it comes to memoirs.
DN: I also think it's more honest, than a seamless story. One's life is very fragmented, so when I write about my wacky dad, I want to approach it from many different angles and perspectives. This book is much more serious.
EN: What attracted you to writing this book solely on improprieties?  Did you see a growing audience for these kinds of stories?
DN: Some of the stories had been published in literary journals, and I snuck a few stories into some poetry readings. They got a pretty decent reception, so I continued to writing. It all felt right, so I continued writing urban sketches.
Also after moving away from New York, I started thinking about the New York years right away. That's when I ended up focusing on my time in New York. And I just like telling funny, fucked up stories. They just seem to be the ones, the epiphanic stories are for someone else to tell.
EN: I think it's interesting how we can easily distinguish an inappropriate act from an appropriate one, and your stories dwell on that, and what makes people feel uncomfortable. But can we consider poetry or novels inappropriate? Can a work of art, as it were, be inappropriate?
DN: Well, that's what brought me to poetry. I came to poetry loving Allen Ginsberg, Charles Bukowski, Sylvia Plath, Sharon Olds, writers who used the first-person self, too-much-information-self, to get themselves back from the reader.
I write about this in the book, how I move to New York and everybody's not into that. Everybody's into not using the lyrical or confessional; it became somehow morally wrong to do that. But I think the best kind of poetry is that inappropriate poetry, and a lot of people think that's the poet's job, to step over the line, and say what other people don't want to say.
EN: So this inappropriateness is more of the freedom for you to write about yourself as yourself?
DN: Yeah, I guess you could call this book, How to be Solipsistic. For me, being that way is just a state of being comfortable, and where people can just be honest with one another. My family never thought I crossed the line ever with these stories. It felt natural, even as I was growing up, to use humor as a coping device for a lot that we went through. It's gotten me in trouble, but I've always had it.
EN: What about your choice to include your wife's struggle to get pregnant in the book? It had humorous moments, but it was an overall much more serious piece.
DN: Two things happened there. One, when I was putting together the collection I wanted to add some serious-minded pieces, and there are two I can think of doing that. I put them near the end, because a lot of recent essay collections are doing that, putting the serious stories near the end. They were also chronologically that way.
I also wrote a first draft about this memoir of my dad, and used all of the pregnancy as a framing device for the dad memoir. It was framed around this quest to get a kid, I thought it would be clever. It worked to a certain degree, until something happened: we got pregnant again [Nestor recently had his second child.] That sort of took out the power of having your first kid. So I looked at the writing and completely changed it, but kept the idea. I also wrote about it for The Daily Beast, and there was a lot of reaction to that, so I started writing about those reactions. It felt natural to include it, but I can see how it reads differently. People are telling me they like the long serious ones. That's great!
EN: And now that you have two kids, how do you feel about all your inappropriateness  documented?
DN: Well, it's dedicated to our first kid. It's fine if she reads it, when she's 37 years old. I plan on teaching honesty and candor to my kids, so I think there's a lesson there. If anything, I've reverted back to being a little kid, talking about burps and farts with my little 2-year old is fun. Everyone is an artist when they're a kid, they just have to deal with the hang-ups later on. I think I'll probably stay the same.
EN: Some of your work in the book feels very journalistic to me. Do you consider yourself a journalist?
DN: Yeah, I've been having a lot of fun writing journalism pieces. That was the biggest jump, to put in the tanning piece and the Extenze piece [in which Nester chronicles his experiences in a tanning booth and, in another story, attempts to test a male enhancement product.] They're more magazine pieces, but I revamped them for a bigger canvas.
EN: And I feel with blogging now, those types of personal-journalism stories are what people prefer to read.
DN: I'm teaching a blogging class, and some people think it's the end of the world I'm teaching young adults how to start a blog. But I think I'm teaching them how to engage with the world, it's a way of asserting the self into the world and being a part of a bigger conversation. The bigger freak out is that when students publish a post, they realize it is out there for everyone to see, and I still don't think they realize it.
We're reading Say Anything, by Scott Rosenberg, and even those books seem like they haven't really figured out the fact that we can go home, click posts, and we're publishers.
EN: How do you think blogs are changing how we write books?
DN: I think there's a roundtable discussion in the 826 Valencia Writer's guide about holding back things for the book, allowing the blogs to serve a specific function and the book to serve a specific function. My website hasn't really led to any book deals, but some people do consider it a platform. I prefer it to be much more organic than that.
EN: How have you noticed poetry changing with the advent of the blogging?
DN: When I got out of grad school in '96, '97, it was like Rare Tan Review or bust. There was no alternative to the hard copy journals. And then all of a sudden these online literary journals started, which was a wonderful thing. They didn't depend on getting big authors to keep their grants going, these were just people with Dreamweaver and a dream, you know? That opened up the playing field for a lot of poets, and all of a sudden I was an editor and a publisher. I complain about poetry but I think the state of poetry is much more exciting than it was 15 years ago.
EN: Have you always been a writer?
DN: I've written every since second grade. I have pictures of winning second prize at a poetry contest at the library… I wish I had the grown up version of the outfit I was wearing then. There was a period where I wasn't a writer, and it was a private thing I did, what I would call my twenties. But yeah, I've always been writing.
EN: And so it must feel really great to be here now, to have published books….
DN: Good, feels really good. Strange, too. Every writer seems, in a sense, like they're an aspiring writer all the time. I wish I could buy a smoking jacket, call myself a writer, and call it a day, but you know, there's still the wild admission that being in New York City gives you. It's a sort of survival technique. It's nice to come up and rejuvenate those wildly ambitious feelings.
How To Be Inappropriate is out now from Soft Skull Press.