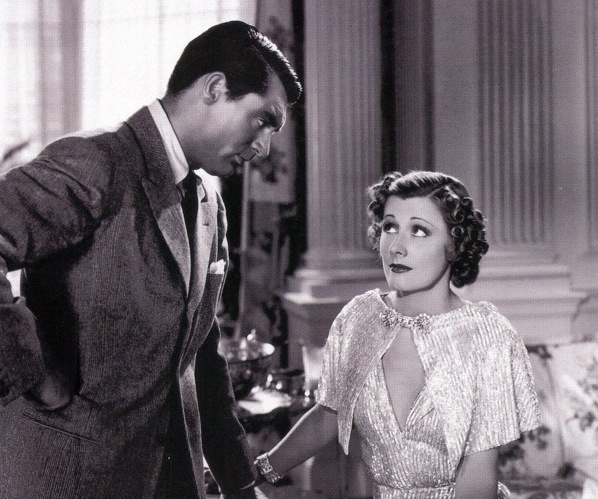 The great film critic Stanley Cavell once wrote that his enjoyment of The Awful Truth was "especially dependent on the presence of an appreciative audience." Fortunately for us New Yorkers, this 1937 screwball classic will be screening to a predictably packed house this Friday and Saturday when it kicks off the opening weekend of Film Forum's "Madcap Manhattan" retrospective. Bristling with crackerjack comedic wit and generous humanity, The Awful Truth will be a sure-fire hit with Film Forum patrons, the most unaffectedly enthusiastic audience pool in the local repertory circuit. If you want to know what laughter sounds like—not the scattered chuckles reflexively produced by "punch lines" and "payoffs" but a self-sustaining rally of audience enjoyment that feeds off its own infectious hysteria—then get your tickets now, because these screenings are going to sell out.
This cockeyed romantic comedy set amongst the absurdly idle rich was director Leo McCarey's gift to Depression-era America: an hour and a half of the high life for the low cost of a quarter. Seventy-odd years later (increases in inflation-adjusted ticket prices notwithstanding), The Awful Truth remains a welcome reprieve from our economic doldrums, a wish-fulfillment fantasy as effervescent as vintage-year champagne and as breezy as a road trip to Connecticut with the top down. The film stars a holy triumvirate of 1930s screwball icons—Irene Dunne, Cary Grant, and Asta the Dog (the white-haired terrier of Bringing Up Baby and The Thin Man fame)—and if you have an iota of romanticism in your soul, you will fall deeply and devotedly in love with all three of them in the first 15 minutes. Jean Renoir once said that Leo McCarey "understood people better than any other Hollywood director." To which we can add: puppies too. He had a great feel for life itself, for the physical nuances of behavior that defy abstraction and schematization and rationalization, for in-the-moment emotional honesty. Dramaturgically speaking, The Awful Truth is a haphazardly structured mess, a series of almost wholly autonomous scenes strung end to end with perfunctory transitional sequences; but it unfolds on the screen with a rhythmically precise tempo that's practically musical (and often literally is, packed as the film is with diegetic song and dance numbers) which sweeps the viewer past the plot holes and through the muddled time frame.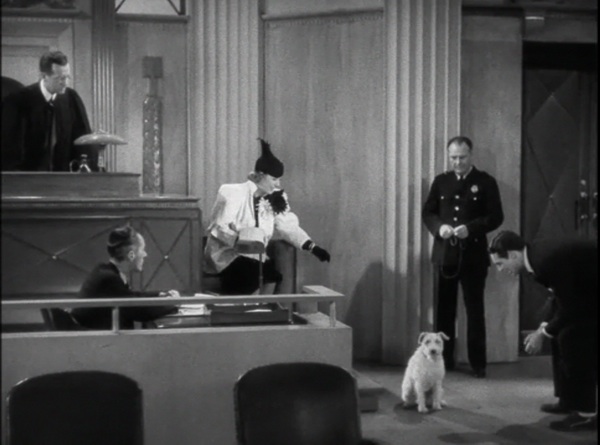 Thus, although the story seems relatively simple as it transpires in the film, it proves strangely difficult to synopsize. When the film opens, Mr. Jerry Warriner (Grant) sits baking under a sun lamp so that Mrs. Lucy Warriner (Dunne) will believe the lie that he's been vacationing in Florida these last two weeks. (What he's actually been up to is left deliberately ambiguous.) Jerry returns home with his entourage in tow only to find his wife coming back from a night away with the suavely European voice teacher Armond Duvalle (Alex D'Arcy). She and Armond were driving back from a Connecticut recital, Lucy explains, when an auto-mechanical mishaps stranded them at a Podunk inn. (What she's actually been up to is also left deliberately ambiguous.) He doesn't believe her. She, having discovered that his Florida gift basket is filled with California oranges, doesn't believe him. Embarrassed in front of their friends and each suspecting the other of adultery, they file for a divorce. Which is where all the fun begins.
In the hilarious courtroom sequence, the judge agrees to a 90-day trial separation, at the end of which period their divorce will become final. After a comically bitter battle over possession of Mr. Smith (Asta the dog), the judge awards Lucy possession and Jerry visiting rights, giving him just the excuse to drop in whenever. That they are obviously going to get back together at the end of the film is the underlying logic that allows the story to take off on as many dizzy shaggy-dog digressions as it wants, just like the eponymous screwball that traces an unpredictable zig-zag trajectory before landing right in the soft spot of the catcher's mitt. As each one of them half-heartedly tries to move on and date other people, the other immediately shows up to bust their bubble. Pretending polite discretion in front of the guileless third wheels, they each work with persistent aggression to undermine any chance of a new relationships. In one scene, Jerry eulogizes Lucy's modesty to a potential suitor with (for her benefit) his fingers crossed behind his back. This double mode of address characterizes almost every scene in the film that involves another party; they are alone are able to appreciate the other's witty innuendo and devilishly clever stratagems, while the rest of the world only vaguely suspects that something is afoot.
They hate each other. They really, really do! But their anger, of course, is just the inverse of their undeniably fierce love for one another. They go back and forth, back and forth, tiny victories and concessions piling up on each side until the scales seem to slowly balance one another. After all this mutual headache, after all the accusations and bickering and sabotage, after all the efforts they made to move on and live happily without the other one, thank you very much—after all that, they can't deny they still love each other. That is the awful truth. L'amour fucking fou. And it's awfully romantic.
Paul Brunick (twitter.com/cinebrat) is a young film fanatic residing in New York and a regular contributor to Film Comment magazine. He is currently completing an M.A. in Cinema Studies at NYU.