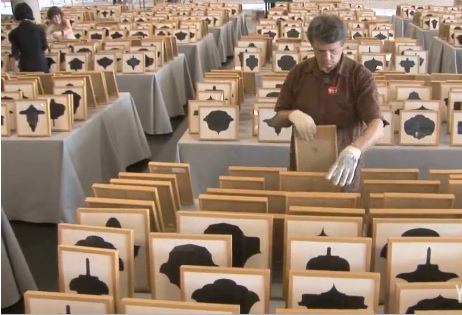 Our friends at Art:21 are hosting a screening and conversation this Tuesday, October 6, at 6pm. Be the first to catch the premiere of their new Season 5 episode, Systems.
Tuesday, October 6, 6:00 p.m
New York Public Library
South Court Auditorium, Stephen A. Schwarzman Building
Fifth Avenue at 42nd Street
FREE
Join Season 5 artist Allan McCollum and Season 3 artist Josiah McElheny in conversation as they explore ideas central to their work and art practice. Premiering Allan McCollum's segment from the upcoming Art:21 episode Systems, the conversation begins with an investigation of the artist's past work and continues with a presentation of some of McElheny's recent projects as well as consider themes such as memory, systems, language, production, and installation. The event is free and open to the public. Seating is provided on a first come, first serve basis.
This event is co-presented by Art21 and The New York Public Library, The Art Collection at the Mid-Manhattan Library.
Allan McCollum is featured in the Season 5 episode Systems, premiering Wednesday, October 28, 2009 at 10:00 p.m. (ET) on PBS.