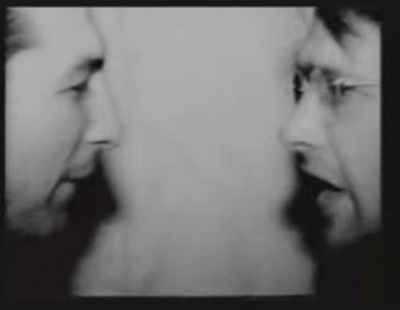 I just received an update from Amir Mogharabi. He'll be performing "Discussion Around a Stone" at X Initiative this Thursday (Sept 24). So, RSVP ASAP, read our BOMB On The Inside conversation, and then head over to this dynamic event. Amir has created a performance that should not be missed.
If subtitles are of importance: Jeffrey Perkins "Shout" 1966 and the other Amir Mogharabi "Discussion Around a Stone" 2009
In the spirit of his past performances,
Amir Mogharabi
combines 'idea' with 'experience' in an extended project entitled: STONE. Often faced with the difficult task of reconciling philosophy and art, his practice to date is a dispersion of inter-media elements that reflect the spontaneity and thoughtfulness of Fluxus' approach to event making, while bespeaking the theory of an aesthetic ambiguity or, "a lie disguised as (Y)." Language, although integral to the realization of his performances, is continuously undermined by poetically active, visual or audible inflections.
Taking as a point of departure, two conversations filmed with Jacques Ranciere and Michael Hardt, the event will approach the inarticulability of a question at the core of both discussions, and be available as a limited edition document including images and other relevant articles. With the participation of Fluxus filmmaker, friend and performance artist Jeffrey Perkins, we are going to (as Ranciere notes during the discussion) "consider this kind of strangeness, this ambiguity."
BOMB On The Inside
is conversation series created by David Goodman that engages artists, curators, gallerists, and visionaries to reveal the dynamism and power of creative thought.