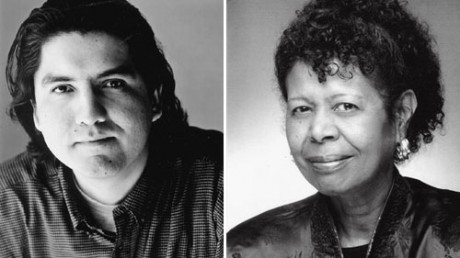 Poet and author Sherman Alexie, promoting his newly released book of poetry, Face, read with Jayne Cortez at the Poetry Project in the St. Mark's Church.
For Alexie, the night was about New York, and it was about Cortez. Alexie began his reading with a selection from one of his many journals, proclaiming Cortez as the catalyst and even inspiration for pursuing poetry, describing a scene in rural Eastern Washington, where the young poet grew up and attended college. For me, it was the culmination of years of admiration. From the Northwest myself, I've always been proud to claim Alexie as one of our own. His short stories and poetry are a staple of our high school English curriculum. You could say we were raised on Alexie… or at least I was. I've continued to admire him—from afar—reading his poetry, novels and collections of short stories.
The pairing of the two poets was perfect for someone who has admired him for so long. To see the influence of Cortez's cadence, vocalized even more strongly at the reading, and her unabashed politics, I could see just how Alexie was provoked to write as a "young man." The night not only allowed me to gawk at one of my own personal literary heroes, but it gave me another perspective on the significance of Alexie's writing. The pairing of the two poets, for me, associated Alexie with a long line of poets—such as Cortez, who are critical of neo-colonialism, imperialism, and homogeneous cultural dominance—that extends beyond the geography of the Pacific Northwest, and the United States.
In one of the poems from Face, "Tuxedo with Eagle Feathers," he recognizes himself as inheriting the cultural traditions from both his Native American ancestors and the dominant Western culture. In this poem, as well as many others, he moves in and out of free-verse, prose, traditional, and nontraditional styles. In the four-page poem he attempts to buy a tuxedo from Dorothy Grant, a designer who "blends traditional Haida symbol and imagery with twenty-first century fashion," and in whom Alexie seems to have more than professional interest. His poetry is artistically similar, a blending of differing traditions. While Alexie's poetic form typically defies the conventions of traditional poetry, he ends with a Shakespearean sonnet that he compares to his reservation, seemingly simple but in reality the product of complex historical conflict, i.e. colonialism. He asks:
…If I find it pleasurable

To (imperfectly) mimic white masters,
Then what tribal elders have I betrayed?
If I quote Frost from memory faster
Than I recall powwow songs, then what blank

Or free or formal verse should I call mine?
I claim all of it; Hunger is my crime.
Alexie is forging his own new identity, proclaiming his individuality as an amalgamation of tribal, personal, and literary experiences. He disagrees with Elizabeth Cook-Lynn, a Native American writer and scholar, who has said "That Skins shouldn't write autobiography." Deferring, instead, to their tribal identity. Alexie responds: "I call bullshit!"  Elizabeth Cook-Lynn is the antithesis of all that Alexie admires in Dorothy Grant, the designer. Here, he proclaims his own debt to multiculturalism, saying, "I wasn't saved by the separation of cultures; I was reborn inside the collision of cultures."
Although I was not familiar with Jayne Cortez before that night, she also seemed to enter a discourse of multiculturalism. She began her reading with a poem that was a "call and response" style poem, juxtaposing what seemed to be Haitian Creole phrases with English ones. Not attempting a work of translation, the poet seemed more interested in the interplay between the two languages, using sounds, association, puns, and other techniques that, despite the heavy presence of a foreign language, worked well for the English-speaking audience.
Other poems of hers were more overtly political in tone and subject, often returning to a similar thematic tension between the individual and larger cultural entities. In one such poem, "I am New York City," the poetic voice takes on the persona of New York City. As "new york city" describes herself, she describes a jarring, crowded, ugly and charismatic city. Although bombarded with stimulation and overflowing with differing influences, "new york city" finds a brash and individual voice, saying, "i imitate no one."
Cortez is interested in defiance more than stringent self-definition, much in the same way Alexie stubbornly refuses to attend a Pow-wow in the poem "Chicken" but encourages his sons to attend with his wife, or discusses cutting his hair, in "Song Son Blue," proclaiming, "Do I contradict myself? Yes! And if I like,/I'll contradict God, Jesus, Mary, and You." While both poets enter the discourse of multiculturalism, neither of them is bound or hindered by it—they take cultural and literary influences ad hoc, combine them with personal anecdotes as they see fit, and produce lyric poetry that was a pleasure to hear and observe.
Face by Sherman Alexie was recently published from Hanging Loose Press.