If you were at our Bash last summer, you'll remember the army of Steve Keene paintings propped up all over Glasslands. You probably wanted to buy one, but you were too busy rocking out to the blissed-out fuzz of Noveller to remember to pick one up on your way out,  or you couldn't figure out a way to strap one of the BOMBettes to your fixie, or maybe  you just weren't ready to commit. We believe in second chances here at BOMB, so you'll be able to check out (and walk out with) all of Steve Keene's work, again, this weekend at Greenpoint Open Studios.
Head over to Fowler Arts Collective for their very first exhibition, which, along with the Keene army, will be exhibiting work by BOMBlog artists Elizabeth Hoy and Leigh Van Duzer.
Saturday, October 2nd
7-11pm
67 West Street (on the second floor) between Milton St. and Noble St., Brooklyn
Look for signs directing you into the space.
http://www.fowlerartsbrooklyn.org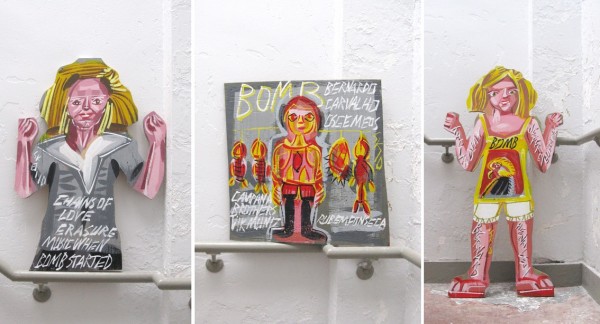 The ubiquitous Steve Keene is a painter probably best-known for the cover art of Wowee Zowee, Pavement's best album.