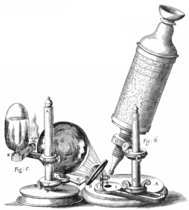 Micrographia, published in 1665, is the title of Robert Hooke's bestselling book of scientific observations of plant cells, insects, minerals, etc. through various microscope lenses. This historical book contained descriptions and intricate copperplate engravings of what he saw through his microscope, as well as his thoughts on distant planetary bodies, the wave theory of light, and the origin of fossils. Micrographia was revolutionary at its time for showing tiny worlds most had never seen—the pores of charcoal, the cylinders of silk, and the crystals and gravel of urine, for instance—making Hooke's book a hard act to follow.
Poet Emily Wilson selected Micrographia as the title of her slim volume of backyard Brooklyn observations. Wilson's language play is sophisticated and skillful, recalling Bishop and Dickinson. The poem "Picturesque" describes a bird with a dead rodent:
And little guts appear
in walls and asphalt
pink, disturbing
bursts, vascular
shafts, rotational
basal aigrettes like chamois insoles.
At times Wilson recalls Woolf and Stein as well. You can almost see Wilson looking out a back window while writing these poems, vibrating with intellectual intensity. Like those of her predecessors, Wilson's lines have a lot of restraint. Perhaps because she's mimicking Hooke's objective scientific gaze, we get a lot of observations but not much intimacy. This can make reading Micrographia feel like reading a cerebral scientific text instead of a book of poems. Wilson's emotions bubble below the surface of the lines, never actually coming out. Clearly, there is tenderness in her descriptions of her neighbor's garden in the poem "Endemic":
Recession again through Bill's garden
always the mid-ground
the complex rigged wildness.
The fence grizzled with lichen.
Just the fact that she mentions her neighbor by first name gives us a slight bit of insight beyond the poet's objective observations and into her own personal world. Yet when that kind of intimacy is absent, you can feel like you're just reading highfalutin words. If you read poetry to feel a sense of connection with the poet and the world as a whole, this book is not for you. Despite the obvious premise of Micrographia to observe as objectively as Hooke did through his microscope, you won't be blamed if you're left with a longing to get less of the poet's mind and more of her emotional connection to her subject.
Emily Wilson's Micrographia is out now from University of Iowa Press.