The Whitney's Off the Wall: Part 1 raises questions about museums' duty and capacity to preserve and re-present performance art—the extent to which it can be preserved, and the ethical implications of bottling, as it were, such an immediate form of artistic expression. John Sherman reviews the show.
The best museum shows feel like ice cream sundaes—in my excitement over each spoonful, I scarcely know where to begin. This was the feeling I had walking into Off the Wall: Part 1—Thirty Performative Actions at the Whitney Museum. I wanted to stand at the entrance and absorb the array of videos and photographs, even as I tried to focus on one at a time. The galleries murmured and banged in all their far-off corners, packed with performances running tirelessly on loop, enacting and reenacting themselves for a parade of visitors.
The first thing I encountered as I entered was a television on the ground at the top of the stairs. Its small black-and-white screen was playing Vito Acconci's Claim Excerpts (1971), in which the artist is crouched in a stairwell, blindfolded and mumbling to himself, swinging a metal pipe at visitors to the gallery—a warm welcome, to be sure. The artist, vulnerable and reclusive, personifies the risk of presenting art to an audience; Acconci rails against the exposure to which he has subjected himself. Re-installed in the stairwell of the Whitney, the recording echoed Acconci's original performance with a measured self-consciousness that set the tone for the entire show.
Off the Wall: Part 1 raises questions about museums' duty and capacity to preserve and re-present performance art—the extent to which it can be preserved, and the ethical implications of bottling, as it were, such an immediate form of artistic expression.
Videos and photographs throughout the exhibition act variously as records of performance and as the medium for performative action, as in short post-produced works on film. Trisha Donnelly's Untitled (1998), projected onto a wall in the gallery, shows the artist jumping on a trampoline (off screen) in slow motion, and striking a pose at the apex of each bounce. Seen live, Untitled would have been incomplete, just as Claim Excerpts is incomplete on film, as it was originally performed live. The ultimate difficulty in re-presenting performance art is in re-creating an experience. In the sense that Vito Acconci is confined to a television monitor, rather than a stairwell, Claim Excerpts has been de-completed.
Decompletion is a cruel side effect of art preservation; I consider it the removal of a work of art from its original form and/or context, such that its impactive power is affected. Visual art is not so easily decompleted, in that it retains its original form and confines regardless of its location. Starry Night looks no different at MoMA than it might at The Met (even if 181 Renoirs turn to dust upon removal from Merion, PA).
Performance art is most acutely decompletable, as a result of its immediate relationship between performance, presence, and the present. When the present shifts, the work is like an uprooted tree; when seen on film or in photographs, it's like a single branch. The power of performance art acts on the tenor of the air in a room in the moment of its inception; it manifests in the relationship between the watchers and the watched, and between people seeing the same thing at the same time.
That said, what can be done to preserve performance art more effectively? Is it a greater evil to leave performances silently in the past, or to attempt to re-present them to a new audience? In post-Abramović New York, the value of re-performance is evident. Re-performance defines a new performative locus; its context becomes now, rather than then, and viewers are invited into the work not at the arm's length distance of history but in the highly present experience of performance.
John Baldessari's I Will Not Make Any More Boring Art is one of the re-performances included in Off the Wall: Part 1. In its original incarnation, Baldessari's piece was installed by art students in Helsinki, taking on what Baldessari believed should be his punishment for not attending in person: writing out the apologetic assertion "I will not make any more boring art" over and over, such that it covers a gallery wall. Re-performed by local art students at the Whitney this year, I Will Not Make Any More Boring Art is far from the original time-and-space-wise, but remains conceptually unchanged.
Concept, as distinct from object, is central to many successfully re-presented performative works in Off the Wall: Part 1. The work of Yoko Ono, for example, is conceptual in the extreme: small wall labels of one or two sentences simply propose perfomative actions to the viewer. The concept of any of Ono's conceptual pieces is more powerful and more enduring than any performance of it, just as the concept behind Baldessari's I Will Not Make Any More Boring Art is more powerful than any single wall covered in graphite.
This issue is avoided entirely by video art, which is necessarily identical in each re-playing. One powerful piece is a video installation by Dara Friedman, titled Bim Bam (1999). Two videos of Friedman are projected full-size onto the far wall of a separate gallery in split screen. Both videos are oriented sideways in relation to the viewer, and each shows Friedman repeatedly slamming a door without audio. Played over the video is a recording of a door slamming, played out of sync with Friedman's silent, violent on-screen slamming. When the artificial, prerecorded BANG happens a few seconds later, it is both jarring and satisfying. In the silent seconds in-between, the artist's efforts begin to seem futile, even misdirected.
In as much as Ono's concepts have effect without action, Friedman's door-slamming becomes an action with no effect in itself. The effect felt by the viewer—the noise—is superimposed on the artist's action after the fact. Exerting herself to a greater and greater extent, the artist's action and the effect of the piece are misaligned and disjointed. A performance artist faces this challenge with every piece—her own exertion in the face of the inevitable remoteness of her audience.
Martha Rosler's Vital Statistics of a Citizen, Simply Obtained (1977) is another video work that self-consciously addresses the medium of film in the context of art. The film runs almost 40 minutes, and shows a woman being weighed, measured, and eventually stripped entirely by a male doctor. All the while, three female medical students look on taking notes. In the course of the video, the woman's examination becomes increasingly invasive, every square inch of her body beind coldly quantified by the male doctor.
The viewer is implicated in this woman's objectification by mere fact of observation, our own compounded by that of the medical students, and ultimately that of the camera. The discomfort of the viewer in this voyeurism is both tempered and intensified by the distance that the recording affords us—we are both less present, being outside of the room in which this is going on, and more present, in that we have the privilege of watching without participating directly. The viewer begins to feel like a voyeur watching any performance, and can't help but question his role in the objectification of artists and art objects.
Performance art continually addresses the issue of access—who has access to the work, when, how, and to what extent? Vital Statistics allegorizes the viewer's access to video art, criticizing the exposure endured by the artist even as it is intensified by the film's subject matter.
Photography grants and limits access in equal proportion. No viewer can see more or less of a single photograph than any other, yet in its stasis, a photograph can only offer so much information. Most would scarcely think to classify photographers like Jimmy DeSana, Cindy Sherman, and Francesca Woodman as performance artists, but their inclusion in Off the Wall: Part 1 by curator Chrissie Iles is especially shrewd. Photographic work reverses the paradigm of performance art preservation—the photograph is the performance, rather than its footprint.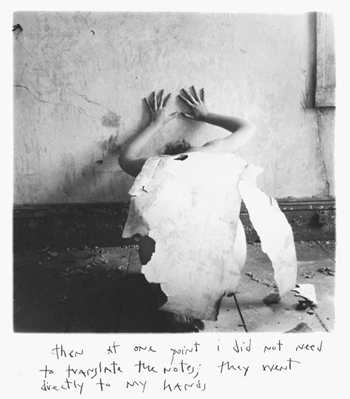 Sherman's Complete Untitled Film Stills series is made up of pieces of wholes that never existed. Woodman's photography seems to document a constant creative rapture, each photograph a single second of an unending performance, seen as though through a hidden camera in an abandoned building. DeSana, wearing nothing but a single high-heeled shoe on a rooftop in Manhattan, or balancing nude and en pointe in traffic cones, emulates traditional performance art documentation. In a sense, DeSana's work becomes a chicken-and-egg question: does performance beget photography, or does photography beget performance?
The performance inherent in photography is evidential—traces of an unobserved and unobservable action. This unobservability of action echoes Dara Friedman's Bim Bam in the disconnect between action and effect, performer and viewer.
An unexpected and somewhat bewildering number of works in the show referenced Marcel Duchamp's Large Glass, or, The Bride Stripped Bare by Her Bachelors, Even. Large Glass is a painting in two sections between panes of glass, and was famously cracked in transit by truck. On seeing the damage, Duchamp decided the spidery cracks completed the piece, rather than marred it, and this resignation to pure chance resonates strongly with the ethos of performance art.
Large Glass is a mechanical sexual allegory of the 20th century, which reduces marital relations to complex, Rube Goldberg-esque gear-cranking with charming crudeness. Duchamp's bizarre, metaphysical machinery leaves the Bachelors grinding away in the lower pane, unable to reach the higher realm of the Bride.
Hannah Wilke undermines Duchamp's mechanized gender roles in a video piece, Through the Large Glass, in which she strips herself bare, quite coyly, rather than leaving the task to her sorry Bachelors. Though it invariably invites self-satisfied chuckles from art history students, Wilke's piece is a powerful feminist statement, asserting and inserting a female presence within the male-dominated art historical tradition.
Also referencing the famous Glass is Robert Longo's Body of a Comic, a nearly wall-size combine of three black, cylindrical steel drums above a photograph of the hands and drums of a bongo player. The division of the piece ehoes the duality of Duchamp's Large Glass, as does its mechanical operation. At odd times, the three drums rotate and a light turns on below them, illuminating the photograph below.
The tension between man and machine, movement and operation, probes the boundary between performance and mere action—by extension, perhaps, the clearer divisions between live performance and prerecorded performance. In yet another perversion of the performative action/effect relationship, the action of Longo's piece is inconstant, apparently random, acting (and not acting) in the presence or absence of a viewer. Certainly, at any given time Body of a Comic could be spinning its drums and lighting its photograph for no one at all. If a black metal cylinder spins at the Whitney and no one is around to watch it, does it make a performance?
Performance art invades our normal museumgoing with videos, projections, holograms, and interactive works, subverting the viewer's relationship to art even as it pushes its boundaries in new and positive ways. Off the Wall: Part 1—Thirty Performative Actions is not organized by year, by medium, or by artist, and the sheer breadth the exhibition showcases the true range of an underexamined and perhaps underappreciated art form.
Off the Wall: Part 1 is a fascinating and comprehensive exhibition of performative art in all its various incarnations—film, video, object, and re-performance—and the show as a whole raises questions about performance as an artistic medium. In such a carefully assembled exhibition, the viewer concedes decompleted records of performance work as a necessary evil, and embraces re-performance as a rare and welcome experience, bringing action and effect together as best as any performance can. Off the Wall: Part 1 presents the tension between video work and recorded performances, as well as between photographs and still images of live performances, questioning the museum's capacity to preserve performance art even as the Whitney does so, and wonderfully.
Off the Wall: Part 1 is on view through September 19th.