Nic Brown is the author of 2009's Floodmarkers and now Doubles, a novel about a lapsed tennis player with unrealized dreams and a wife in a coma. The author spoke with BOMBlog's Emily Testa about research, real-life characters, and writing the South.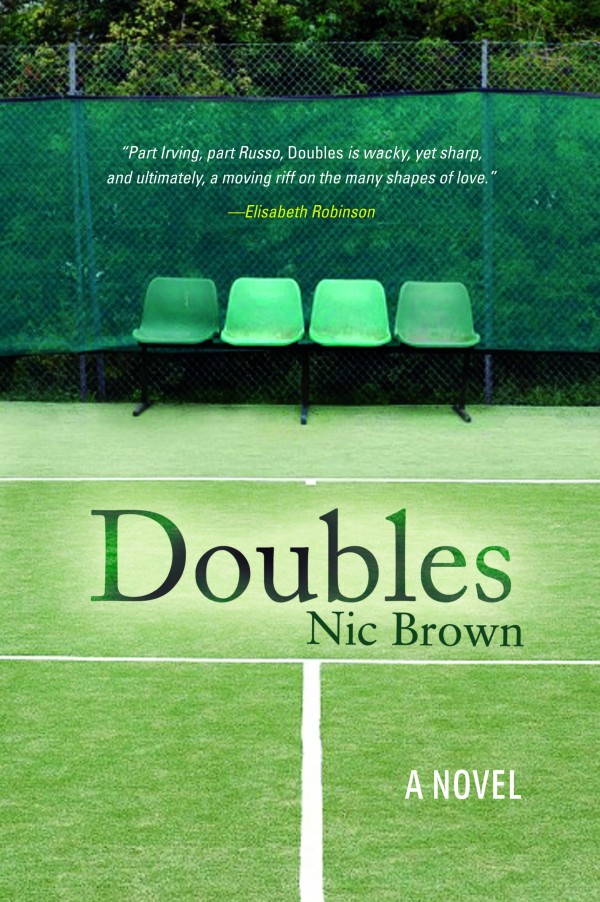 If Nic Brown's writing were a person, it would be the guy in a group of self-professed slackers who secretly stays up late into the night to do his work.
Let me explain: at first Brown's narratives are freewheeling, unpredictable. Then, in what one later realizes are the careful, measured steps of a writer confident in his peculiar voice, he gets it righter than right, delivering a dizzying wallop to the gut. Brown is the author of 2009's Floodmarkers and now Doubles, a novel about a lapsed tennis player with unrealized dreams and a wife in a coma. Over telephone and email, he answered my questions about research, real-life characters, and writing the South.
Emily Testa: It's been said—by me to others, by others to other others, and now by me to you—that your writing is intimate and detailed without succumbing to the ball and chain of regionalism. Why is regionalism a dirty word, and why has it been attached to Southern writing?
Nic Brown: Writing about the place I'm from enables a higher degree of specificity. It keeps my writing true and accurate. But those are benefits that should be shared by any region. I might be from the South, but calling me a regional writer highlights the worst aspects and possibilities of that Southernness. Oddly, none of the writers writing now who live in the South—at least none who are friends with me—embody any of the stereotypes of Southern writers. I don't know if it's an outdated expectation or if globalization has changed things. But, yeah, I resent the term being applied to my writing. Most people would. And I'm not sure why it stuck to us. Good writing is good writing, regardless of what region it comes out of.
ET: To play into that for a second, though—you're moving soon, and leaving the South for Colorado. Will your writing change? Do you think anybody really believes that writing represents regional truths?
NB: No, I don't. Interesting fiction is about profoundly odd humans doing weird, complicated things together. That said, I've lived other places and still I set my stories in the South because it's easier for me to remember specific details. But I'm not writing about South, I'm writing about interesting people. To tell you the truth, I haven't spent much time thinking about being a regional writer, or being a Southern writer. It doesn't weigh heavy on me.
ET: You've said you don't have much use for traditional research. But Doubles had to have involved quite a bit of it—either that, or it's the work of a magnificent and very orderly liar. So when you do research, is it more of an idea-generator? A suspicion-confirmer?
NB: Well, for Doubles, it was kind of an inverted process. I did almost no research after I started the book, but the reason I even wrote it in the first place was because I was obsessed with doubles tennis, and choosing something I already loved was the easiest way into a fictional landscape. I was spending so much time watching doubles matches and crunching ranking numbers—I don't recommend it—and just talking about it and thinking about it. I had all this virtually useless knowledge, and I thought I might as well set my new book in this universe. The backstory is that a close friend of mine from growing up ended up becoming doubles tennis player, and I spent a lot of time traveling with him and meeting other doubles players. For me it was counterculture. It was exotic. I had never been athletic before, or cared much about sports. But doubles tennis is such a specific and odd world, and I really got into it.
ET: In your novel, you position Slow Smith as this kind of passive observer, which helps a reader like me accept every crazy circumstance the story follows without question. Auto theft, fitful threesomes, random drugging by one's own tennis coach—totally fine by me. Of course, Slow's not all passive, but you save that information for maximum impact. Actually, now that I think about it, this book is punctuated everywhere by harsh, revelatory moments. I'd be reading along and think, "Hmm. This moment is quiet and nice," then…it's like when you're charged with caring for a toddler and you realize you haven't heard a peep from him or her in five minutes. Whatever they're doing, it can't be good. Except here it's good.
NB: Ha! That's a great analogy. I'm not ashamed of exploiting plot as a fiction writer. There was no planned trajectory, but as I came upon certain milestones—for instance, the classic ticking time bomb of a character in a coma—I did think, Can I actually do that? Can I actually put a character in a coma? That's ridiculous. But it's all ridiculous. It's fiction.
ET: Is it more interesting to write about relatively normal people surrounded by those who are unrepressed and/or neurotic?
NB: The reason I like to put seemingly innocent or naive characters in the midst of insanity is that I often feel like that. We don't think of ourselves as the ones who are making this crazy stuff happen to us. Instead, it's: How have I gotten into this? And I think that's a feeling that resonates. But I'm drawn to colorful oddballs.
ET: Let me ask you this—a colleague of mine just sent out his first book, and quite a few of his characters are drawn from real life. He's caught some backlash from friends who objected to the way he's characterized them. People are angry. When you set out to write a character from real life, is there a moral decision? Some kind of moral moment where you ask yourself if it's fair to do what you're doing? Or do you think of real life as just sitting there, waiting for you to write about it?
NB: It's usually me who finds the real life parts uncomfortable, not the people I've written about. Often my writing takes me to some strange questions: How can I make this as sad as possible? And in Doubles, Slow's wife is my wife. She looks like her, she's deaf in one ear, just like her. It's my wife. And when I'm writing moments of grief or physical violence—car accidents, a woman in pain—it's pretty tough. She read it, though, and she doesn't care. So I guess in some innate way I chose well. On the other hand, I had my tennis player friend read the manuscript after the first draft because wanted to make sure I got it right, and because so much of it came from spending time with him. He correctly pointed out that I had better change some of the specific details about his peers. For me, they were public figures, and I felt entitled to write about them. But looking back, it was a little irresponsible and not very necessary. So I changed it.
ET: I think another characteristic of yours is a keen sense of balance. When the world of your stories is turbulent, its characters are calm. The internal logic is completely in line. Is this always your go-to mode?
NB: Well, in a couple of books—Jesus' Son, for instance—I saw that happen on the page, and it really impacted me. No matter how crazy the story got, it wasn't editorialized. If you ever as a writer find yourself writing, "And then something crazy happened!" it's not crazy. I like a dialectic, a very clear set of eyes set against a bunch of craziness. That way I get to deliver the drama and have it be believable for a reader. I can't stand it when voice is telling me what's funny or what's weird or what's sad. And, besides, I find that sort of complexity or contradiction an easy way to create humor in a story. It took me awhile to see the value in that—that fiction could be funny, even if it wasn't destined for Mad Magazine.
ET: What's the most memorable thing anyone's ever told you about your writing? It doesn't necessarily have to be positive. Mine's from Chuck Kinder, who gave a five-word critique of my final workshop materials in grad school: "It seems kind of French."
NB: Well, the New York Times once started a sentence about me with "Like Faulkner…" I mean, they were making a specific point, but still. For the record, I'm pretty sure I'm nothing like Faulkner.
Nic Brown's Doubles is out July 1st from Counterpoint Press.