Barry Gifford's fiction follows characters through numerous dark alleys and grimy, disreputable backwaters. David Lynch has said that reading these novels is, "like looking into the Garden of Eden before things went bad." Bad, here, being a relative term. BOMBlog's Justin McNeil spoke with Gifford last month.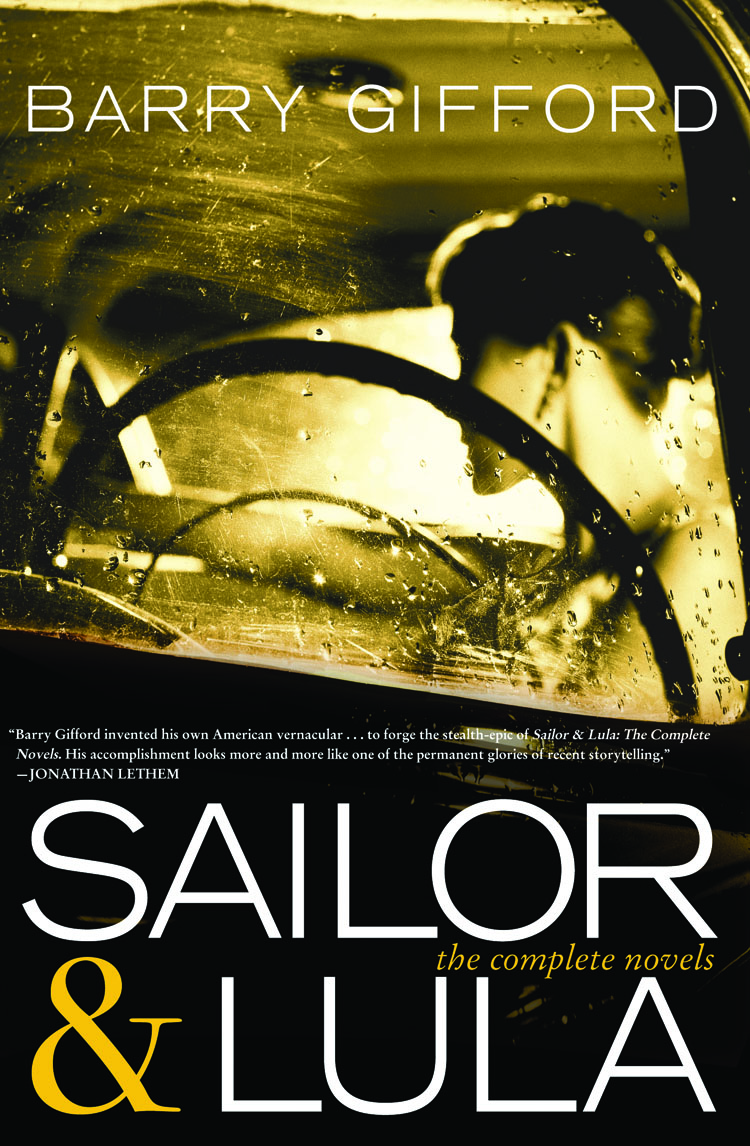 If other cult books teach you about drugs, travel, and freedom, Barry Gifford's Wild at Heart —the first of his Sailor & Lula series—teaches a strange lesson about the protective bond that lust forms against a strange and violent outside world. After Wild at Heart Gifford continued to use Sailor and Lula as characters in subsequent novels; they age, they roam, they encounter dangerous, unsavory types. They are Gifford's pilgrims, traveling into an increasingly strange universe. Sailor & Lula: The Complete Novels, out now from Seven Stories Press, gives readers the opportunity to follow their journey over the years and through numerous dark alleys and grimy, disreputable backwaters. David Lynch, who turned Wild at Heart into a classic film and with whom Gifford wrote the script for Lost Highway, has said that reading these novels is, "like looking into the Garden of Eden before things went bad." Bad, here, being a relative term. I emailed with Gifford as he was being hustled around New York on a publicity tour, no doubt in the back of a big black car.
Justin McNeil: Your character Sailor Ripley smokes Camels, why? You have a certain way of creating characters with tiny brand details: Camels, Kools, not Johnny Walker Red—Black! Can you talk about the importance of brands, details, and the everyday choices that help define your characters?
Barry Gifford: Sailor Ripley is a Mr. Natural type of guy; unfiltered Camels are simple in the way that he is outwardly simple. The products that people in my novels use help to identify them the same as their names do. Johnny Walker Black is better than Johnny Walker Red, therefore it gives us some more information about the person who drinks it.
JM: My favorite detail about the character Sailor Ripley is that he is a murderer. He is not a killer, but he carries that sliver in his heart. Why did you give him that detail?
BG: Sailor kills Bob Ray Lemon to defend Lula and keep something secret. He is a lunkhead with a good heart and, as we eventually find out, a sublime philosophy of life. He likes to pretend he is tougher and more willful than he is. The essence of the Sailor and Lula novels is the tenderness that Sailor and Lula share—or even the tenderness between Marietta and Marcello Santos. This comes to full circle in Lula's book, The Imagination of the Heart, the last in the series.
JM: The Sailor & Lula novels all have New Orleans in their heart. What is it about that city that suits them so well?
BG: New Orleans was always Lula's fantasy city, a place where anything is possible. Don't forget that she has grown up in the small town Bay St. Clement, North Carolina. And New Orleans, especially prior to Katrina, fits the bill.
JM: Reading Sailor and Lula's conversations, it feels like it's the dialogues between them where you work out a theory about the world. Your books have a lot of violence and strangeness in them, but Sailor and Lula's shared inquiry, puts the world in context. Does that make sense?
BG: Yes, this is the point despite all the shit raining down on or around Sailor and Lula, their love survives and they manage to get through it together. This is a very hopeful theme and an honest one. This is true love.
JM: Sailor and Lula, by the number of appearances they've made in your fiction, have become a Balzac-like way to connect your fictional universe. What is it about them that won't let you let go?
BG: Sailor and Lula entered my life talking and perhaps they'll never stop. After Bad Day for the Leopard Man I thought I was finished but 15 years later I wrote The Imagination of the Heart, giving Lula the last word, even though it comes from her friend Bean Thorn. Perhaps it will be. I don't promise anything. Someone wrote once in a review about them that if a writer is lucky, characters like this come along once in a lifetime. I consider myself lucky.
JM: I discovered a book of yours called New Mysteries of Paris, although fiction, each story is inspired by real people or characters, I wonder if this book is close to the way you feel about making art?
BG: I can't speak about making art, with a capital "A" or a small "a", but if it exists, it definitely derives from people. One cannot help but be influenced by what has gone before but if you feel you have something to say, make sure it is your own.
JM: I'm declaring you to be an authority on the genre of Noir; Out of the Past: Adventures in Film Noir, your nonfiction book, tells us as much. Can you tell me what makes good Noir and give your favorite and darkest example of the genre (book or film)?
BG: My best definition of noir in this context is desperation. Things go bad and go downhill from there. The film Out of the Past is a great example of this and as far as a novel is concerned, perhaps Perversité by Francis Carco or Black Wings has my Angel by Elliott Chaze.
JM: Can you explain your view of the film Lost Highway, your project with David Lynch, simply? It lends the viewer the feeling that it's to be solved in some way, but I haven't been able to do so yet
BG: David and I made a pact when we wrote Lost Highway that we would never explain it. I don't mean to be disingenuous when I say that all the answers are there, it all adds up—and then it doesn't. The structure is a Möbius strip with a coda. It's also a love story.
JM: Is there an idea for a novel that you will never write, because of time or whatever constraints, that you would give to me for the price of $100?
BG: Give me the $100 and I'll give you the idea.
Barry Gifford's Sailor and Lula: The Complete Novels is out now from Seven Stories Press.